To paint the scenes of a city is to record life. For the painter Beryl Landau, symbolism, landscape and realism merge to present a portrait of San Francisco from a bird's eye view on the urban landscape.
Landau's paintings represent geographic locations, but are intended to evoke an inner emotion and a particular state of mind. His approach can often be read as abstract, but each landscape draws the viewer into a particular and familiar space and atmosphere. Using a color palette ranging from high contrast to subtle gradation, his subjects vary from local Californian scenes to more exotic locations in his travels. His most recent work focuses on urban imagery, San Francisco more precisely, alternately presented in close-up or from a more distant and wider point of view.
"I am particularly interested in the juxtaposition of technology against nature and the constant changes that occur in an urban environment," she said.
Landau grew up in the Bronx and spent two years in Santa Monica before moving to the Bay Area in 1961 to study at UC Berkeley.
"I have always considered myself to be an artist. My kindergarten teacher suggested to my mom that I attend art classes at the People's Art Center run by MOMA in Manhattan. I took Saturday classes there for eight years, "she said. She also attended the High School of Music and Art in Manhattan.
The artists who inspire Landau the most are, unsurprisingly, Henri Matisse, Georgia O'Keeffe and Richard Diebenkorn. Classic, pure, colorful and curved. Artists who care about their environment. In his own way, Landau similarly captures the urban scene through depictions of mundane and prosaic things, the mundane images in front of us daily that we often ignore or dismiss in the background, unworthy of our true attention. However, these images are part of everyday life, and the mere evocation of them in painting by this artist serves as a reminder that there is a tangible beauty in everything, if you look closely enough.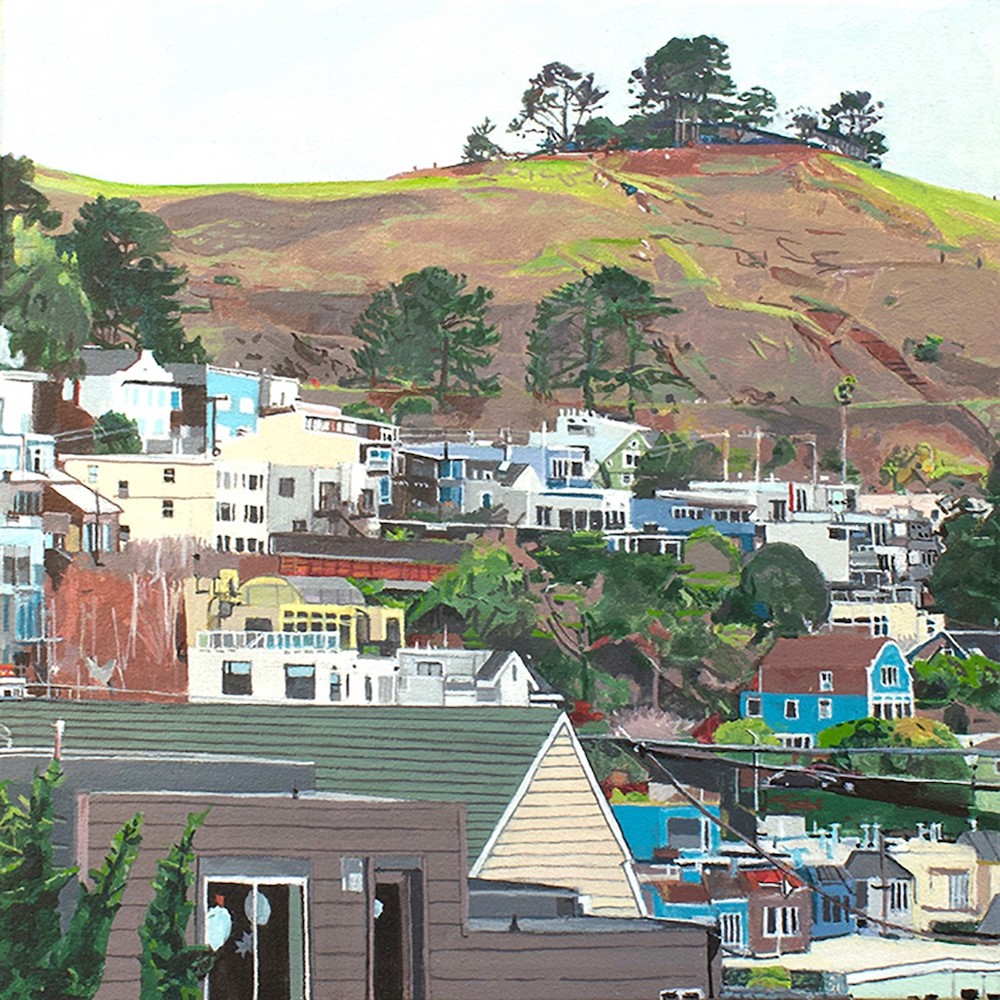 Construction sites, bridges and horizons, concrete and traffic jams, all have light and matter, rhythmic pattern and vital energy. Like a musical arrangement, the elements fall into place to create an overall ambience and setting experience. With titles like Another sight, the real thing, is it San Francisco?, and Something is going on here, Landau asks us to look, as she looks, at our immediate environment. Pay attention to the most varied and less exceptional scene in the garden and make it meaningful. Mostly absent from people, each painting nonetheless presents a snapshot of the human impact and presence in a densely populated metropolis.
Landau's color schemes further suggest the seemingly monotonous cityscape in shades of gray, black, blue and white. Sometimes brighter colors stand out from a sunset, a workman's t-shirt, or the reflective waters of the bay. These colored tips serve to reiterate the dynamism hidden beneath the surface of routine life. A natural geometry of intersecting lines and artificial shapes fills his square canvases, giving the illusion that we are taking the view through a window of a skyscraper; maybe as voyeurs, maybe in a contemplative break after a busy day.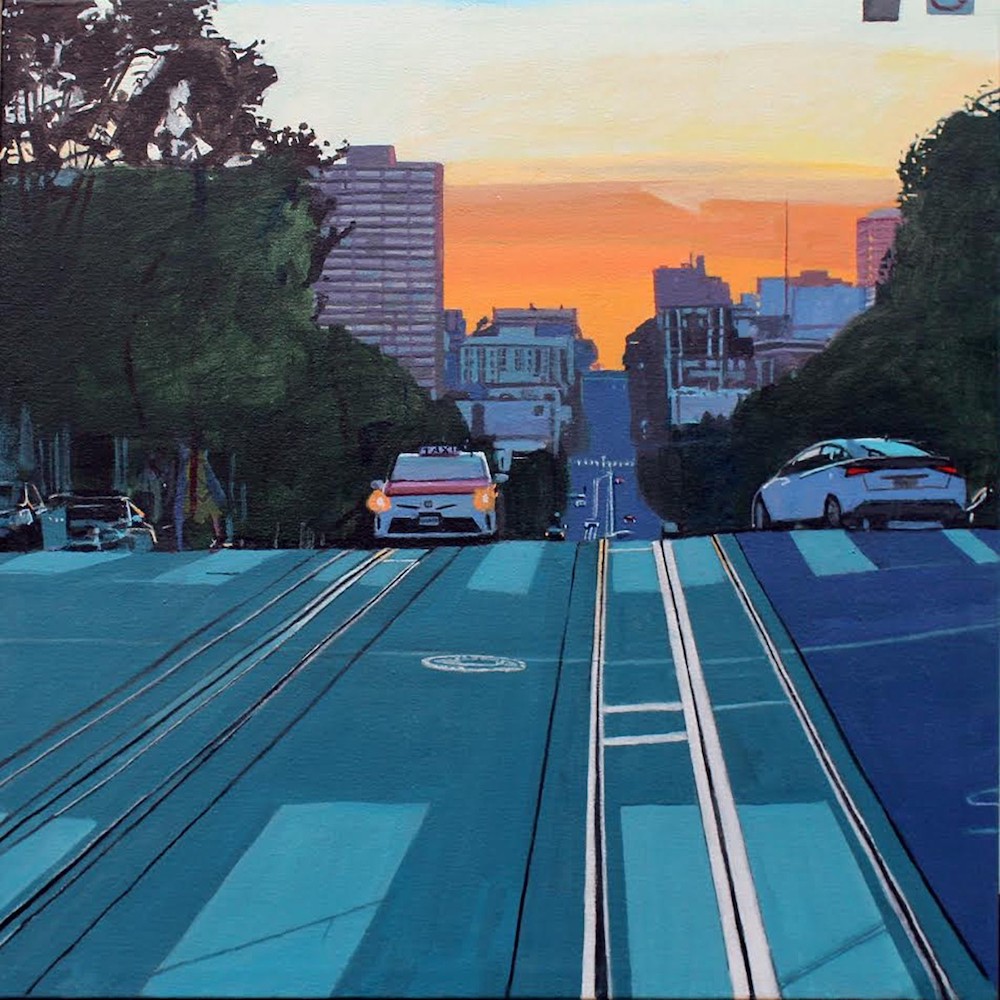 Landau's paintings are not just random scenes either. It is an autobiographical chronicle, reflections of his time and his life. These are moments recorded in San Francisco, Italy, or wherever she is at any given time. The pandemic has therefore limited his vision to primarily his own home neighborhood of Bernal Heights and the neighboring Mission district. His current painting is a view of Mission Street from the corner of Third Street, facing east.
Landau enjoys working in her studio mostly at night, with her radio tuned to KPFA for classical music, news and talk shows to keep her mind stimulated and connected to the subject while she paints. From his own photographs, the artist paints in layman's terms with intention and economy. His stretched canvases come to life from acrylics mixed and stored in small plastic yogurt containers with lids. She starts with a pencil drawing, blocking out shapes with color, then works the paint into smaller shapes and finer details. Each painting, on average, takes about a month to complete.
Landau and her husband, street painter Anthony Holdsworth, profiled by 48 Hills in June, will be exhibiting together at the Luna Rienne Gallery as part of an exhibition titled "Twenty-Twenty Vision", from October 2-30. The SFMOMA artist gallery at The Fort Mason Center, which will close in December due to budget cuts imposed by the pandemic, will showcase some of Landau's paintings in a final sale until October 15. For more information, visit their website at mesart.com/blandau.