Parents often keep a photo of their children in a wallet or purse. Although worn and wrinkled, the photo keeps their children close to them in their daily lives. Families in the 18th and 19th centuries had the same wish, and so miniature the paintings gained popularity among early prosperous Americans.
Usually no longer than two inches, a miniature was designed to be held in the hands of a single viewer to create a sense of intimacy with a loved one when physical closeness was not possible, whether for couples betrothed or relatives separated by war. Placed in small frames, the miniatures can be pinned inside a jacket or placed in a pocket for easy viewing access throughout the day.
According to the website of the Weibold Studio, curators of miniature portraits, the paintings were made to strengthen emotional ties with special people:
The portrait miniatures may have been exchanged by an engaged couple, or worn as a keepsake for someone who lived far away, or who may have died. Some even contain a lock of the loved one's hair, either below the portrait or displayed on the back, intricately woven with seed beads or gold thread.
Many of America's finest portrait painters, such as Gilbert Stuart, popularized this art form by bringing European miniaturists to the United States to cater to wealthy citizens who wished to wear and display these intimate pieces.
make it small
Portrait miniatures developed in the 16th and 17th centuries. The most common technique used watercolor-based paint on ivory, although some were painted on stretched vellum. Others were created with oils on copper.
At the height of the popularity of miniatures in the mid-1800s, American miniaturists attempted to replicate the look of an oil portrait. And, as the popularity of these portraits grew, miniaturists improved their skills, especially in stronger colors, more detail, sharper focus, and high finish.
For those who wished to acquire the skill, textbooks encouraged learning to bring out the luminous flesh of the subject as the defining characteristic of portraiture; it was a laborious process. "The artists used the most translucent shades of watercolor the painter could obtain, applied in transparent layers to allow the ivory to shine," according to the Morgan Library and Museumanalysis of his collection.
"The facial highlights were executed either by leaving the ivory bare or by delicately removing the painted layers to expose the medium. Thus, the pale complexion was rendered in ivory, itself a luxury material which involved an amalgam of precious materials with a desirable appearance.
The most popular technique was gouache (an opaque watercolour) painting on ivory, a difficult task that required meticulous preparation of the ivory and special painting techniques. If an artist were to simply paint directly on the ivory, the colors would blend together and lose their definition. Sliced ​​thinly across the grain, the ivory has been cleaned to remove all organic oils and sanded in preparation for miniature painting. The artists used painting techniques such as hatching (short overlapping lines to show color gradients) and stippling (repeating dots of color) to avoid blurring the colors.
A fine craftsmanship has been used on the folder, called a "portrait box", to present the portrait at its best and complete the order. "Thin sheets of ivory were attached to pieces of laid paper (finely textured paper) so artists could manipulate the piece while painting," according to The Gibbes Museum file description.
"When completed, the paper was cut to fit a case and allow the ivory to fit snugly against the glass, protecting it from dust and moisture. To keep the ivory from shifting, other pieces of paper, often playing cards or scraps, were layered under the paint.
Colored glass has been added to some miniature cases to enhance the richness of the object.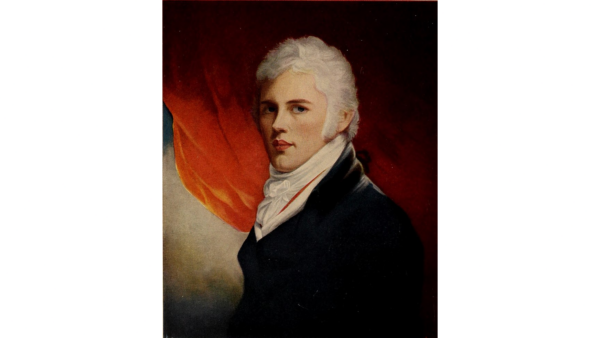 The artist, both admired and accessible
As America's first miniaturist, Edward Greene Malbone was widely admired by American and British artists, and he made a name for himself as a master of miniature portraiture.
Self-taught, Malbone left his home in Rhode Island to work as a miniaturist alongside the painter and friend Washington Allston (1779-1843) in Boston. Allston remarked on Malbone's docile disposition and his way of using his artistic skills to bring out the inner goodness of those who posed for him: He had the "fortunate talent…to elevate the character without altering the likeness [of his sitters]."
As his skills grew, Malbone traveled along the East Coast, gaining popularity. For a time he honed his skills in England but returned to the United States to work in Charleston, South Carolina in 1801. Now in great demand, Malbone began his most prolific period of work, making three miniatures per week.
Malbone miniatures give insight into the character and spirit of the models in a unique way. In his portrait of Eliza Izard, for example, he used a cross-hatching technique, with small strokes and a mixture of colors. Although her skin appears smooth, closer study reveals small lines of color layered together to create a subtle blush on her cheek.
Several portrait miniatures in the Smithsonian American Art Museum provide details of Malbone and his subjects. As word spread among family and friends, commissions for the artist increased. Susannah Russell was a descendant of the Condé and Bourbon houses, and had several kings of France in her line, including Louis IV.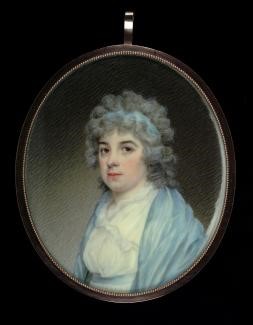 John Corlis, who had his miniature made in 1795, was a merchant shipowner based in Providence, Rhode Island. From 1792 to 1810, the fleet traveled between the United States, the Caribbean Islands, and Hamburg, Germany.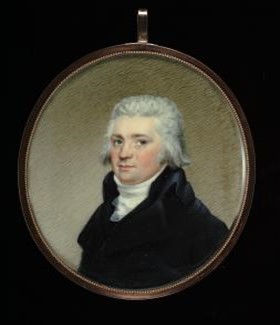 Joseph Manigault was a plantation owner and member of the South Carolina Legislative Assembly. The artist made a miniature of his wife, Charlotte Drayton (below).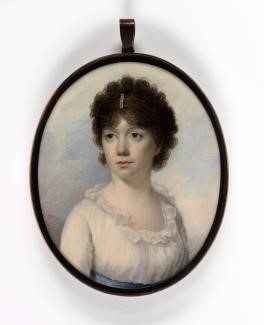 Malbone painted miniatures of several members of the Poinsett family during his trip to Charleston between 1801 and 1802. He made a miniature of Dr. Elisha Poinsett, who was the father of Joel R. Poinsett, who was a member of the House of Representatives and Secretary of War of President Martin Van Buren.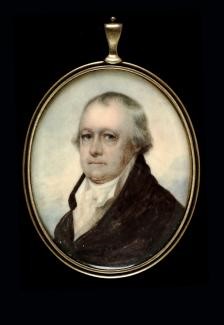 Susan Poinsett was recovering from a long illness at the time of her portrait, but her recovery was brief and she died two years later. The small portrait shows a pale young woman with sad eyes.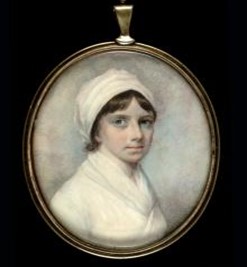 Henry Bounetheau, a prominent miniaturist in Charleston, showed his great respect and admiration for Malbone by having him do the portraits of Bounetheau's own family, including an aunt. It is unknown which of her aunts appears in this miniature.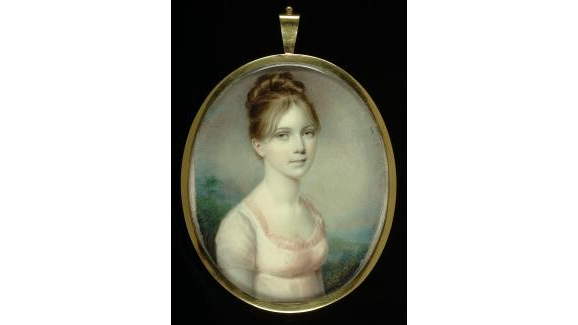 By today's standards
Although not as expensive as a full-length portrait, the price of such an emotional connection was not cheap, but by the 1830s newspapers ran advertisements for miniaturists. Often a portrait artist would offer a two-for-one to get clients to pose. As the life-size portrait was made, the miniaturist partnering with a portrait painter completed a smaller likeness.
According to Malbone's account book, he painted a Mr. Lawrence in December 1803 and was paid $70 for his efforts on Christmas Day. In today's dollars, commissions to artists to make an ivory miniature would range between $450 and $13,500 with an average of $1,325. The cost would depend on the reputation and skill of the artist, the materials used and the quality of the file. The price could drop if several family members have their miniatures made and a large scale portrait is also ordered.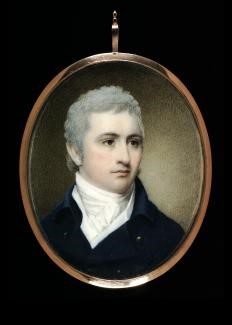 A historical marker in Savannah, Georgia, praised his talent: "Today Malbone is recognized as the finest miniaturist his country has ever produced, and among the greatest of all time."