The passage is alluded to upon entering the newly renovated, enormous gallery of Pace by Chipperfield as costumed assistants walk among late paintings by Rothko and seascape photographs by Sugimoto. It's an apt citation given not only the halved format of all the works, but also the artists' ambitions to evoke the meaning of this "boundless simplicity" and the heroic insufficiency of their attempts.
The two artists are juxtaposed here for the purpose of what the Pace Gallery describes as a visual dialogue. The similarities, a priori, are superficial: the works are characterized by a binary format of a black and gray surface and, as such, visually rhyme. But it's still an interesting couple. Whispered subtleties ring alternately on the same walls or clash like their counterparts on parallel walls.
Rothko's late black and gray paintings can be seen as a new direction or a dead end. Given the artist's suicide shortly after their completion, it is tempting to read them as the latter. But despite the limited and arguably moody palette, these works show a Rothko stepping out of his famously lavish mode of painting into territory that is both harsh and minimalist. Paint flecks no longer float like figures, replaced by horizontal bands of color that evoke contemporaries like Ad Reinhardt and (early) Frank Stella. You can only wonder where Rothko might have gone with this new format had it not been for his suicide.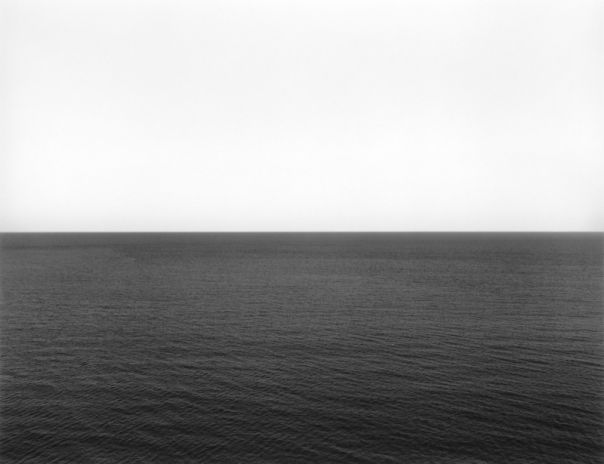 The first painting faced by the visitor entering the gallery is opaque black, its gray part is more of a dirty white. Broken brushstrokes of gray leap across the surface of black, and there is both speed and contemplation in the execution of this painting. To the left, Untitled,1969, has a translucent grey-black, on a muddy grey. Washes and dry stains enliven the veil of paint with an anxious energy. More than tiny differences set these two tables apart, and they open up the discussion beautifully. There is a language for them, rich in intonation but limited in vocabulary. To their right, Sugimoto's Ligurian Sea, Saviore, 1993, presents such sharp contrast that it gives the impression of being a painting, as if the colors meet on its surface like blocks. But as you approach, you can make out the low ripples of dark water emerging from a gray mist.
As you move on to the second sequence of images, things branch out a bit more. Sugimoto's images deviate from the bisected format, some bearing soft flecks of light that are hard to imagine as vast expanses of water. The larger Rothko (which is enormous) taking center stage in the gallery seems to anchor not only the images around it but also the people. Its extreme – but not sharp – horizontal of about two meters highlights the living figures that cross it in such a way that a shore gives the distant silhouettes an existential gravity. It is this animation of the environment around the images that is most minimalistic about them, which underscores the break Rothko had made with his earlier works, not just in form but in the spirit in which they were intended: less imagistic and contemplative, more sculptural.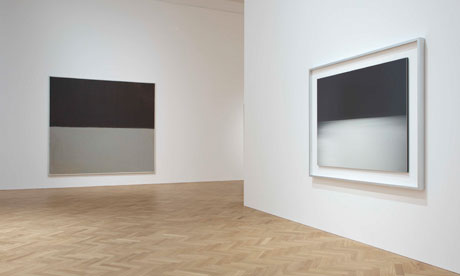 Sugimoto's nature-capturing work is, of course, softer. Lake Superior, Cascade River, 2003, is almost monochromatic, a uniform pale gray except, on closer inspection, skeins of small waves which again evaporate as one moves back. All these photographs situate you not only at the edge of the earth, but also, in the imagination, at the edge of consciousness in their evocation of a sort of primordial sublime. While Rothko's late paintings attempt to steer away from Romanticism, Sugimoto wholeheartedly embraces tradition. Given that Sugimoto claims to have been nudged in this direction by seeing these particular Rothko works in 1978, the idea that there's a dialogue going on here is starting to slip a bit. It's not a conversation, it's a counterpoint duet.